The Hueyify® story was updated on the 24/12/2022: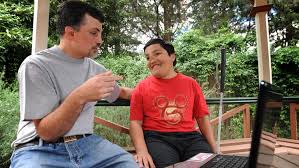 ANNOUNCEMENT (30/08/2020):
I apologise for the lack of updates on Hueyify® and the considerable delay to make this announcement. It is with much sadness and heavy heart to say that my son Huey (may his gentle soul rest in peace always) in which the project Hueyify was based upon has been called home. Huey is always missed and was taken too soon at the young age of sixteen.
As the Founder of Hueyify and the vision I have for Hueyify remains (and continues in Huey's memory). However, I envision that Hueyify will make a greater impact when launched through snapWONDERS.
Stay tuned for the details soon.
May peace be with you,
Kenneth B Springer
Hueyify & snapWONDERS Founder
photo copyright: Herald Sun / Waverly Leader – © 2015
A Bold Vision — The Next Era of the World Wide Web
You have no doubt stumbled onto this page to learn more about the people behind Hueyify® and to perhaps seek answers to why are we doing this? What is our purpose?
The World Wide Web Problem
In today's society there is no doubt that the integration of technology and computers into our lives has influenced education and changed the way we work and live. About four years ago Huey was influenced by his older sister to explore the Web. It quickly became apparent that Huey struggles as there is a bombardment of information presented to him.
Sighted people generally develop skills to skim over information of little value and quickly extract what is relevant from a website. This improves with the familiarity of the web page layout and the ability to ignore and classify information becomes easier. I searched for tools to assist Huey with processing information from the Web easier and found none.
The Founding of the Hueyify® Concept
When Huey was browsing the Web and was stuck on a page and frustrated he came up with his Web idea. In reality Huey was suggesting an impossible idea: the ability to be able to instantly display websites in such a way that is most closely aligned to your personal preferences in how you want information displayed and how you wish to interact with the website. This would make web browsing easier, smarter and fun with you in control.
After doing investigations and corresponding with others in our community and learning about their struggles on the Web it became apparent that Huey wasn't alone. The scope of the problem was bigger than what I initially had thought as it affected everyone and was not limited to just those with disabilities.
It bothered me given that the Web is a vital part of our daily lives and there were people struggling to use the Internet. Being an Engineer I began to constantly ask myself: How can technology make a difference? How to solve this problem? Can the Web be improved? If yes – then how? How do we validate it? What's the next step?

The Hueyify logo designed by Huey, Elleleen and Kenneth. A shape of 'H', Brallie on each leg spelling h-u-e-y, black on yellow with the word 'hueyify' on the middle bar of the written in blue on white. Inspired by the challenge I coined a new word called "Hueyify", a verb which means "the ability to transform Web content and display it in any way possible that aids your web browsing experience". Shortly after the Hueyify logo was designed to capture our inspiration and remind us the roots of why the project was formed.
Improving Web Browsing Experiences
Imagine viewing your favourite website using your preferred web browser and having the ability to control anything you see on the screen? No more griping about how appallingly poor a website was designed as through Hueyify you will be able to control exactly how the information is presented to you. Watch the Hueyify Explainer Video to learn more.
It is in my opinion that Web Designers do take care and thought when designing the websites for their targeted audience. Realistically it is impossible to produce a final design that ultimately suits every individual as each individual has different ideas on what works best for them. This is where Hueyify comes to play and is dedicated to overcoming these limitations.
A perfect website can only be one that is most closely aligned to our personal preferences. This concept will not only aid those who are vision impaired but will support access and equity for people with learning differences, those with autism and other disabilities.
Achievements
The prototype has already been completed and presented to an audience for viewing. An international patent-applied-for (PCT/AU2016/050860) has commenced. We've already done the hard work researching, investigating, designing and proving that the concept is viable.
Video Explainer
At Hueyify we are thinking differently towards Accessibility / "Web Usability". Watch our video to learn more about our vision for the future of the World Wide Web.
Hueyify Pivot
The Hueyify project has undertaken a pivot for many reasons which is not elaborated in our story or on the Hueyify website. As the Founder of Hueyify and the vision I have for Hueyify remains (and continues in Huey's memory). However, I envision that Hueyify will make a greater impact when launched through snapWONDERS.
Hueyify is now managed by the team at goldenSoftwareENGINEERS®. The summary for goldenSoftwareENGINEERS and projects / brands managed is listed as follows:
snapWonders — Deep digital media analysis, format conversions, steganography, scrubbing and regeneration. Providing digital media solutions
snapWonders.com
Hueyify — Digital media and AI powering Accessibility
www.hueyify.com
brownSignWONDERS — Storytelling the wonders of your world…
brownSignWONDERS.world
goldenSoftwareENGINEERS — a software house and the people behind snapWONDERS™, Hueyify® and brownSignWONDERS™
goldenSoftwareENGINEERS.com